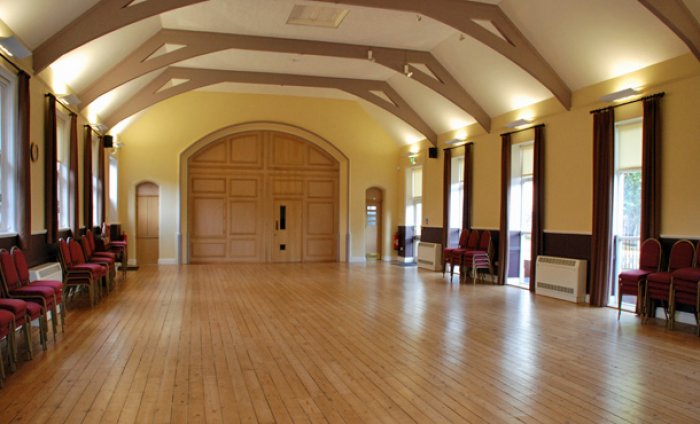 Date modified: Monday, 3rd October 2022 9:36 AM
The Hall is available for hire by the hour and can seat up to 120 people at tables for dinner or lunch or 150 people in theatre style. Due to the close proximity of the hall to neighbouring houses, we would recommend that you make an enquiry for the suitability of your event in the planning stage. Hire includes use of the servery and garden, but not the catering kitchen – which requires a supplement.
Kitchen
The fully equipped commercial standard kitchen is available for use by our preferred caterers and those with food hygiene training serving those using the hall. The main hall also has a kitchenette with a water boiler, fridge and sink. Use of kitchenette is included free of charge for those hiring the hall. Use of the larger kitchen requires a surcharge.
Please note: There is no stage in the hall and no stage lighting bars to attach any lighting. Loading in is by the front doors on double yellow lines. Parking for guests is in the Abbey Fields car park.
Hall dimensions 18.1m x 9.2m, Area 166m2
Kitchen dimensions 5.5m x 2.2m, Area 12m2
Outside Lawn 21.6m x 8.6m, 186m2 – Gravel Patio Area 90m2 – Brick Patio Area 13m2
Prices 2022:
Hall per hour:
£18 for regular block bookings
£22 for ad hoc bookings
Kitchen charge: between £25 – £50 per booking