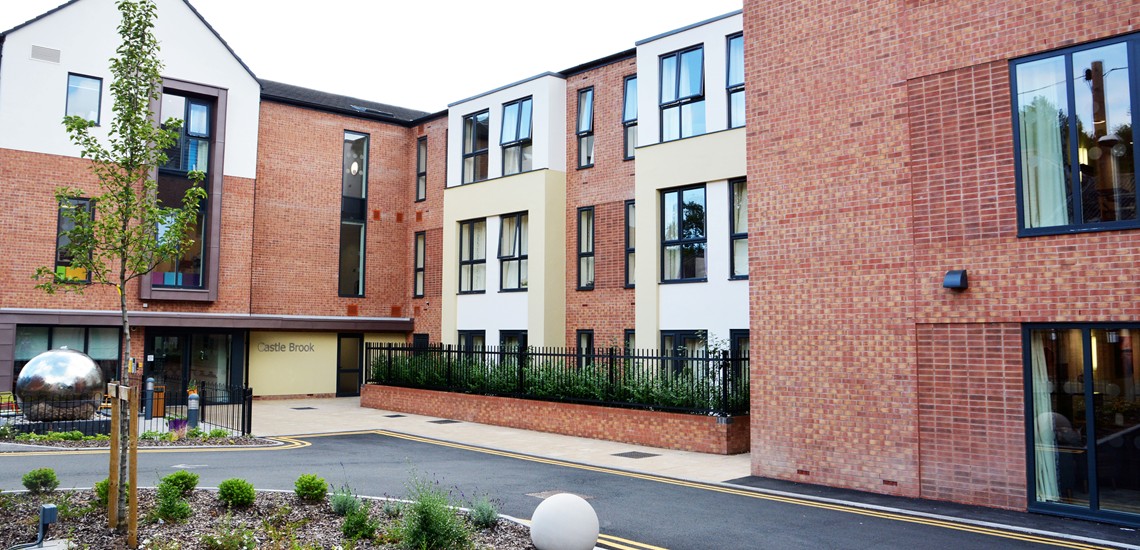 Date modified: Monday, 11th September 2023 10:36 AM
Castle Brook is situated in Kenilworth and provides a home for 88 older people. The home offers respite care, short stays and long term care.
Designed as six households, each household has its own communal open-plan lounge, dining area and kitchen where people can make their own snacks and drinks and staff will help to prepare hot meals. All rooms have ensuite facilities, a personalised front door and have windows that overlook the treetops and brook that runs next to the home. Companion rooms are also available at Castle Brook for couples or relatives wanting to stay together.
There is always a lot happening in each household including regular exercise classes and activities, as well as activities in the central cafe area or garden like the home's choir practise. Outside is a large garden with a specially designed cycle path for a side-by-side bicycle for two, varied planting which residents and staff take care of, a greenhouse and garden shed, as well as a water feature. At the front of the home the cafe has an outdoor patio with water feature and seating under a large canopy.
The home has a range of facilities alongside the cafe including a shop, launderette, hair salon, cinema, rooftop bowling green, spa bath and table tennis table. The home's Lifestyle Coaches plan a range of activities including regular outings and day trips. They will always do their best to ensure that you can continue to do the things that you have always done.
The home uses a range of technology that supports the health and wellbeing of residents, including night-time acoustic monitoring which enhances resident night-time privacy and means people are disturbed less at night, as well as electronic care planning for capturing care notes. Our care system includes our relatives' gateway which, with consent, means relatives can view their loved one's care notes in real time from anywhere with an internet connection.
If you're thinking about making Castle Brook your new home, please get in touch to arrange a tour - like any new home you'll only know if it's right for you when you walk through the front door.
If you'd like to see what our relatives and residents say about Castle Brook, please read our reviews on carehome.co.uk